A Satisfying Job That Allows You to Give Back To The Community
An exciting job is available right in your backyard — as a school bus driver! A career as a school bus driver is one of the few opportunities that allow for a healthy work-life balance. You'll be able to earn the money you need, contribute to the community, and still have plenty of time to do all the things outside of work that are important to you.
Being a bus driver has a variety of rewarding benefits and exciting opportunities like:
(Click on each of the colored boxes below to read additional information about the amazing opportunities.)
A Flexible Schedule Like No Other
Depending on the type of bus driver you become, you may have the opportunity to work flexible hours or determine your own schedule. Few other jobs will allow you to work a bit first thing in the morning and then have several hours off to run errands, take care of your family, exercise, take college courses, or simply relax. But becoming a school bus driver allows for exactly that.
It's the perfect job if you want to earn the money you need and still have a life outside of work. Of course, some drivers fill this break with extra work hours by driving for field trips and other activities with the school children. Should you choose to do something else with your hours, that's your choice to do so!
Reliable Pay and Benefits
Being a bus driver certainly does have its benefits — specifically a salary with benefits! New drivers with no experience now start at $18.36 per hour. Experienced drivers can earn up to $26.64 per hour, depending on experience. Because bus drivers don't typically work in the summer, base pay of 4 or 5 hours per day is spread out over 12 months, creating a minimum, dependable monthly salary for budgeting purposes. APS also offers great benefits for bus drivers and their families, including:
Health Insurance
Life Insurance
Dental Insurance
Sick Leave
Employer contributions to defined benefit pension plan (Teacher Retirement System or City of Atlanta Pension)
Uniform Shirts
Access to extra work with overtime
Work locations in both South Atlanta and North Atlanta areas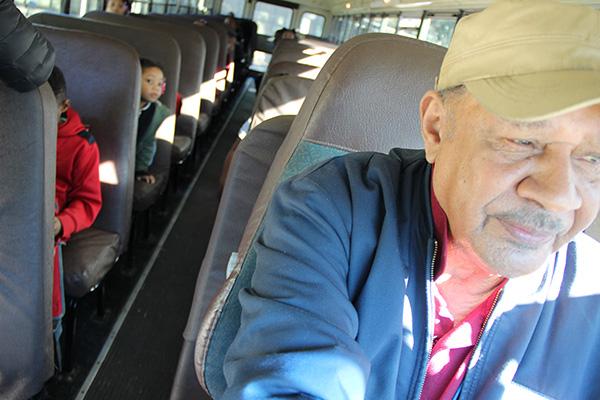 You Can Earn Your
Class B CDL In
No Time
Other career paths take years of training, endless loans, and potentially attendance at a college or university. In order to become a professional school bus driver, you have to have or be able to receive your Class B CDL. APS provides this training for qualified candidates, which consists of over the road training, in-class lectures, testing and more. Candidates are also eligible to receive hourly pay while completing training and onboarding requirements. To be eligible for this paid, fast-track training program, candidates must:
Have a high school diploma or equivalent
Be able to pass annual physical and agility test
Be able to lift 50 lbs.
Be a safe operator and always look out for the safety of the students.
Ready to go? Click here to apply online today!
For questions, call the APS Transportation Department at (404) 802-5500. Our call center always has Spanish speaking staff.
If potential applicants need assistance completing the application process, Spanish speaking staff are in the building at 1661 Metropolitan Parkway, Atlanta, GA 30315 from 5:30 a.m. – 7p.m. Monday-Friday.
A quién contactar si necesita ayuda. Por favor póngase en contacto con nuestro centro de llamadas de transporte al 404-802-5500, presione la tecla #2 y uno de nuestros amigables miembros del personal bilingüe lo asistirá.